The kids have been wanting a puppy for over a year. The request appeared on the christmas list. It appeared in letters written to Dad during summer vacation. It was the request that would not go away. So on Sunday morning, Ron roused me out of bed early to look at puppies on Kijiji. We viewed some really cute puppies which led to a discussion about breeds. Althought we loved our Chesapeake Bay Retriever, Brandy, we felt a smaller breed would be better for our children. We wanted a dog that they could handle on their own….take for walks, play and feed on their own. We decided a breed that would be 10 to 15 lbs. fully grown, and that did not shed, would best suit our family. Ron began calls and made an appointment to meet with a breeder to look at some Shih-tzu puppies that were 2 months old. We surprised the kids with the announcement that we would be going to look at a puppy…..they were beyond excited.
Little did we know that we would meet 2 completely adorable puppies…sisters from the same litter and the last of a litter of 6 puppies. Our intention was to go home with 1 puppy…but Hunter chose the puppy with a lot of black, while Tyler chose the puppy with a lot of white. Hmmmm. I looked at Ron and asked if we could take both home. He said, "Are you crazy?". I said nothing more, but the next thing I knew, he was doling out money for 2 puppies and we went home with each child holding a little puppy on their lap. Oh happy day!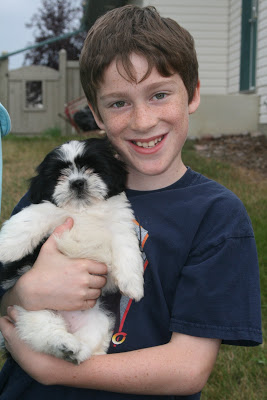 This little girl that Tyler is holding is a chunky little puppy who likes to sleep a lot. She is also a very laid-back puppy. He chose the name "Rigley" for her, along with a blue collar and leash, as well as an Oilers bandana. She will be completey ready when hockey season starts!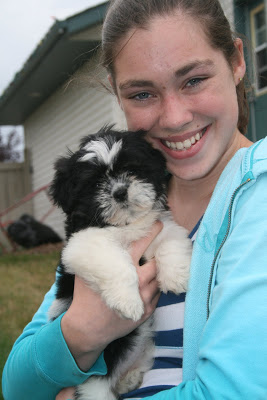 This little girl is quite delicate in build and full of pep. She gets into things quickly and looks for trouble. Hunter named her "Molly" and chose a pink collar and leash for her.
And by the way, the color of the bucket and mop is red.