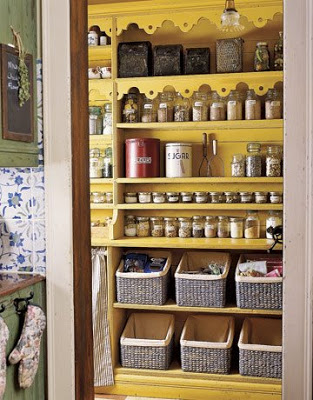 With the economy being what it is, and my husband working for a US-based company, we are buckling up our budget, so to speak. This means evaluating all areas where we spend money and re-thinking choices and looking at areas where we can cut back or save.
One area where it is relatively easy to save money is on the grocery bill. Watching the weekly sales flyers on a regular basis can definitely save money if you carefully shop the sales and plan your menu accordingly.
I have taken our household to a "pantry" system, where we cook mainly from our pantry which is stocked with many basic ingredients that have been purchased at the lowest price I can find. Examples of lowest priced goods are: boxed cereals, canned soup, tomato sauce, crackers, chicken stock, tuna, peanut butter, etc. If the pantry is cleaned out of an item, I wait until the next sale before I stock up. Since I have adapted to this system, we grocery shop only 1 or 2 times a month. This does not include replenishing fresh items like eggs, milk, fruit & veggies. I recently stocked the freezer with bulk buying at Costco. I have found Costco to be the cheapest place to stock up on meat and some other goods. I regularly buy bulk packs of meat and divide them at home into smaller sized meal portions for the freezer. The last time I purchased meat was in December…we just ran out!
I bake most of our treats from scratch. I rarely buy pre-packaged or grocery store cookies, muffins or biscuits. This saves us money and the things I make from scratch are far healthier for us as we are not consuming chemicals, preservatives, high fructose corn syrup and hydrogenated oils. I regularly bake cookies for the kids lunches and wrap the cookies in wax paper in packs of 2's for the freezer…ready to add to packed lunches as needed. Same for muffins and I make homemade bread often as well.
One thing I have noticed is that my kids are often happy with just oranges and apples for fruit and often these are the best-priced items in the winter. I do buy other fruits such as kiwis, bananas, pineapple and melons when they are priced well.
My weekly menu is based on what is currently in my fridge to use up. I had a package of ground turkey from Friday that become Italian Wedding Soup for tonight's dinner. I have half of a 5 pound bag of carrots that will become Carrot Ginger Soup for Wednesday night's dinner, along with grilled sandwiches.
Breakfasts this week:
Eggs & Toast
Oatmeal
Cream of Wheat
Oranges
Yogurt
Lunches:
Tuna sandwiches
P&J Sandwiches
Leftover Italian Wedding Soup
Oranges, Apples, Pineapple
Carrots & Celery sticks
Cheese & Crackers
Yogurt
Chocolate Chip Cookies, Flaxseed Cookies
Dinners:
Monday-Italian Wedding Soup
Tuesday-Chicken Breasts with Grilled veggies
Wednesday-Carrot Ginger Soup with grilled ham sandwiches
Thursday- Homemade Pizza
Friday-Slowcooker Meal-Sweet & Sour Shrimp with Rice
Saturday-Dad Cooks
Sunday-Whatever day