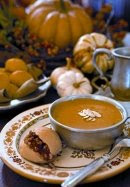 I love when fall arrives and the menu can move to warm, spicy soups and fresh fruit cobblers and muffins. It so much easier to get inspired in the kitchen when the weather is cool.
Monday:Dad cooks.
Tuesday:Shepherd's Pie and Salad.
Wednesday: Vegetarian Night: Spicy Corn Chowder & homemade bread.
Thursday: Pork Tenderloin in the slow cooker with veggies.
Friday: Fish Night: Quick Fishermens Stew (Shrimp & Clams) and biscuits.
Pickled Beets project: completed
Baking Projects: 6-8 apple pies..some for the freezer and some to give away. (Mom! STOP laughing! My mom knows that MAKING pies is not my favorite thing…however…eating them…different story! I am trying to break out of my comfort zone. Lis, wanna help me make pies?)
In other news….I got a crown today. I wish I could say that it was the kind that was all sparkly and full of diamonds. It was actually the kind that was white porcelain and goes in your mouth and costs mucho dollars for something smaller than the size of a nickel. Hello laughing gas.