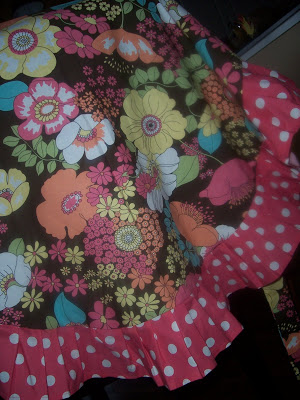 I must admit that I am a bit old-fashioned. Not only do I love to cook & bake & be in the kitchen, but I also love to wear an apron…. not only for practical reasons( I am a very messy cook), but because of the sentiment of the apron-the women in my family wore aprons on a regular basis. I can especially remember at Christmas how you weren't allowed to help in the kitchen until you donned the requisite apron. Putting on an apron means that you are about to do serious business in the kitchen and others in the family must beware to stay out of your way! The problem is that these days it is hard to find a PRETTY apron. I love the feminine frills of the aprons of yesteryear, not the big manly squares of cloth so common now.The aprons available for purchase in the store have such an industrial or utilitarian look-more like you are getting ready to go under a car to do repairs instead of preparing something delicious for your family. I like aprons that look like they are best friends with high heels & martinis….. a more "come hither" retro type of look.
One day, my dear friend Laurie & I were discussing our mutual love of things in the kitchen, when I mentioned to her how hard it is to find a pretty apron. Not more than a few weeks later, she gave me the most beautiful apron-PINK paisley with a pretty green polka dot ruffle. It was the most AMAZING gift and all the more special because she had sat at her sewing maching & made it herself. Then….. a light bulb went off in my head…& a new addiction was born. I was soon off to the fabric store myself to pick out my own pretties to sew into aprons. Thanks to Laurie, I have dusted off my sewing machine after more than 10 years in the closet, and now I have a stack of fabrics waiting to be sewn into cute aprons for Hunter, my mom, my grandmother….& the list grows. And of course, I couldn't start my projects without a cute new pin cushion, and a flower-patterned rotary cutter. The picture above is the almost-finished apron I made for Hunter… I love the funky, bold patterns together.
Ron is just shaking his head at me….. and he is not happy that he is no longer allowed to use MY sewing maching to fix those rags he calls his hockey gear.