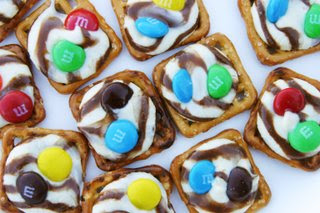 Thought I would share this recipe. We made these today with Grammie. If you are having a bad day, go make yourself some pretzel hugs! You won't regret it. Super simple and great to make with kids. All you need is:
1 bag of small pretzels
1 bag of hershey's hugs
1 bag of m & m's or smarties
Place desired number of pretzels on cookie sheet. Add a hershey's hug on top. Place in 300 oven for about 5-8 minutes, depending on how hot your oven runs. Watch carefully as the hugs melt over the pretzels. Remove from oven and press m & m's or smarties into melted chocolate. Let cool! Place in fridge to cool if short on time. Warning…. these are hard to resist!