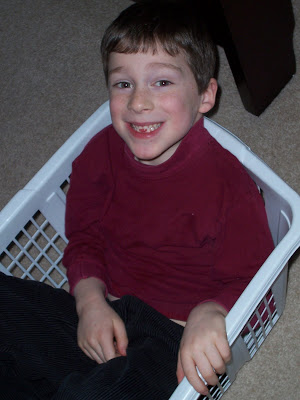 I am so very happy that March is here and spring is not far off. February went by in a blur. 5 days after we got home from Chilliwack, we were up at 5am on Saturday morning to leave for a skating competition for Camrose. We went as a family, and it was so nice for Hunter & I to NOT have to travel on the dreaded bus again. Hunter's team had a great skate and I was very busy. Two moms on the Adult team asked me if I could watch their babies while they had practice ice. I had looked after 3 month old Lauren when we were in Chilliwack, but I had not looked after the other two boys before. I had a Lauren, plus a 9 month old and a 4 year old. The 4 year old boy was a handful. I realized quite quickly that he didn't listen or cooperate very well. So I had Lauren on one arm, left Hunter pushing the 9 month old in his stroller, while I was chasing after this little boy. He wanted to run/climb up and down the bleachers, which were exceptionally steep and dangerous. Finally, Ron took over for me and made him sit in one spot with Tyler. Where was the father of these two boys? I'm not sure. Ron just gave me the "look" which means that I have a problem saying "NO" to people. Looking after Lauren would have been just fine. She was easy and Melissa had called me the night before to ask if I could help her with Lauren.
I love Melissa and would do anything for her. But next time, I will be more careful. Babes in strollers are fine, but not busy little people with a mind of their own.
The day after the Camrose competition was Tyler's birthday. We had his party at Chuck E. Cheese's at 5p-6:30pm and the kids had a blast. We had pizza, cake, presents, a visit from Chuck E. Cheese and then the kids were let loose with their "tokens" for the many games. Ron and I loved that there was no mess for us to clean up afterwards. We went home to a nice, clean house and a quiet bedtime. Unfortunately, I forget to take the digital, so I have no pics of the actual party to share.