Hello There!
Did you think that I was never coming back?
I occasionally take a break from blogging. And the computer.
I find that it helps to renew the spirit and refresh my perspective!
And also another project has been demanding my attention.
I have decided to dip my toes into the world of professional organizing.
I have been taking courses, creating a new site, designing business cards and writing my mission and goals for this new career path.
It seemed like quite a good fit for me as it combines my two loves-organizing and decorating!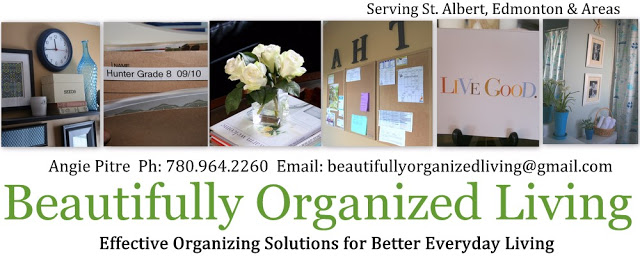 I have been fortunate to also have had jobs with a few clients already.
A big focus these days seems to be personal spaces for busy moms.
I recently helped a mom carve out a new home office space…including painting the room, shopping at Ikea for furniture and then setting up an update file system.
It was a ton of fun!
I will have pictures to come soon!
I have a home office to share along with a sewing studio, and a dining room space!
And if you know anyone in the Edmonton area looking for a professional organizer…please think of me!
Thank you so much for visiting!