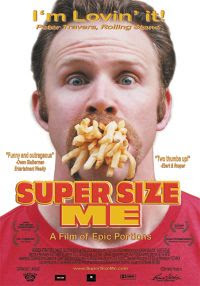 Hunter & I went to Blockbuster one day and came home with this. I have wanted to watch it for a long time, and I convinced her to watch it with me. To my surprise, she remarked that most of her classmates have already seen this documentary and that it was "really gross!".
What surprised me the most was how interested Tyler was in watching it with us and how much he understood what the message was.
I was especially interested in watching this since I have been on a "food theme" lately, with reading the books," Fast Food Nation", "The 100 Mile Diet", "The Omnimore's Dilemma" & watching CBC's show Marketplace with the episode on our "Health Check" system for recommending healthy foods.
As if I didn't have any doubts on the "Frankenfood" that is served up at McDonalds, this documentary proved the actual negative effects of consuming high fat, sodium-laden food with little nutritive value on one's body as proven by Morgan Spurlock's bloodwork prior to and after completion of his 30 day McDonalds diet. Mind you, no one in their right mind would intentionally eat McDonalds for 3 meals a day for 30 days straight, but lots of people do eat fast food a couple of times a week. I am sure that the health affects are just as detrimental in the long term. Fast Food joints have really honed into the fact that you can attract huge numbers of the population by selling cheap food and placing stores everywhere in sight.
I am lucky….both my kids are not fond of McDonalds and seldom ask me to go there. After watching this documentary, I asked who wanted to go to McDonalds for supper and they both cried, " NO!" "YUCK!" "GROSS!!"