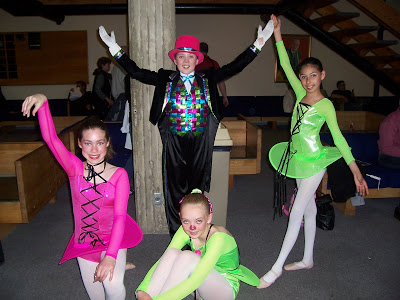 dance competition season is finally over. we have been very busy attending 4 different dance competitions for Hunter, and we traveled to U of A twice for each competition, since she competes as a group entry with her Grade 3/4 ballet class and then as a solo entry in the character ballet solo category. This pic is with her ballet class and the young man in the middle has a fabulous handmade costume (by mom) to match the girls costumes. I could not believe the detail put into the criss cross vest. What a talented sewing mom!
It is rainy and cold here today. Both kids have colds and coughs; they both haven't had a cold for a long time. In fact, when we went to give Tyler some medicine, many of our bottles were expired because we haven't needed to use medicine for so long. Some things going on around our house today:
Ron took Hunter to skating this morning. She is preparing to take 2 skating tests at the end of May.
Tyler stayed home and hung out with me. We folded some laundry and cleaned up his room.
I just finshed putting Maritime brown bread in the breadmaker to have with supper.
I also just finished putting Crockpot Jambalaya in the slowcooker for supper. It is perfect for a chilly day.
Warm, spicy and full of shrimp, scallops, chicken and italian sausage.
The boys are taking in the hockey game ont tv. Too cold for fishing in the boat.
Hunter is in her room working on her homework.
I am trying to finish reading "Bitter Chocolate" by Carol Off. Then I am heading to Chapters to browse for awhile since supper is all taken care of.
Tonight is family movie night and what would family movie night be without dill pickle and nacho seasoning for the popcorn? This is a must for 3 people in the house. I actually just like mine plain with butter. We are air popping our popcorn now since it is healthier (and I read about the toxic bath of chemicals in the microwave brands).